Nom gaélique:
Uíbh Fhailí
Surnoms: The Faithful County (
Le comté fidèle
) *
Population:
76,687 hab (24ème)
Site officiel
:
offaly.gaa.ie
Stade:
O'Connor Park, Tullamore (20.000 places)
*
En 1953

,

l'ancien président de la GAA (de 1935 à 1938) Bob O'Keeffe

déclara: «

Si jamais

Offaly

mérite

un surnom à l'image de

"

Rebel

" pour Cork ou"

Premier"

pour Tipperary

,

je crois que le plus adapté serait

"

fidèle

"

,

car

nulle part ailleurs

les

hurlers

et

les footballeurs n'ont

plus l'intention de

coller à

leurs couleurs

, qui

se trouve

être aussi celle de la république d'Irlande, le

vert, le blanc et

l'or.

»

.

La devise

figurant au côté de l'actuel blason

du

conseil du

comté d'Offaly

est

"Esto

Fidelis

"

, soyez fidèles.
Le O'Connor Park à Tullamore
C'est à
Birr
dans le comté d'Offaly, en plein centre de l'Irlande que fut jouée la toute première finale de All Ireland en hurling le jour de pâques 1888.
Surnommé le King's county (en hommage à Philippe II d'Espagne), Offaly fut l'un des premiers comtés engagés dans la création de la GAA, le club de
Clara
fut le troisième club crée dans le pays et le tout premier hors de Dublin.
Comme dans d'autres comtés, le facteur géographique fut déterminant dans le développement des jeux gaéliques, le hurling dominant dans le sud (frontalier de Tipperary) et le football au nord.
On comptabilisait 25 clubs dans le comté en 1900 et le nombre n'a cessé de croitre avec le temps.
Le développement de la fonction publique d'état, pourvoyeuse d'emplois dans le comté, contribuera grandement à maintenir la population (et donc les joueurs potentiels au pays) et éviter l'émigration de masse du milieu du XXème siècle.
Mais malgré l'enthousiasme entourant les jeux gaéliques, le palmarès d'Offaly restait plutôt maigre jusqu'au mi temps du siècle. Les années 1960 vont enfin apporter le succès, tant en football qu'en hurling, le premier All Ireland de football en 1971 sera suivi d'un "back to back" en 1972 et d'un troisième titre en 1982. Les hurlers aussi connaitront la gloire à quatre reprises (1981, 1985, 1994 et 1998).
Offaly a depuis dévissé et ne compte plus que sur sa séction camogie en plein développement pour apporter des titres en inter-comté.
Sur la scène de clubs, la formation de Birr a ramené quatre All Ireland de clubs en hurling (1995, 1998, 2002 et 2003).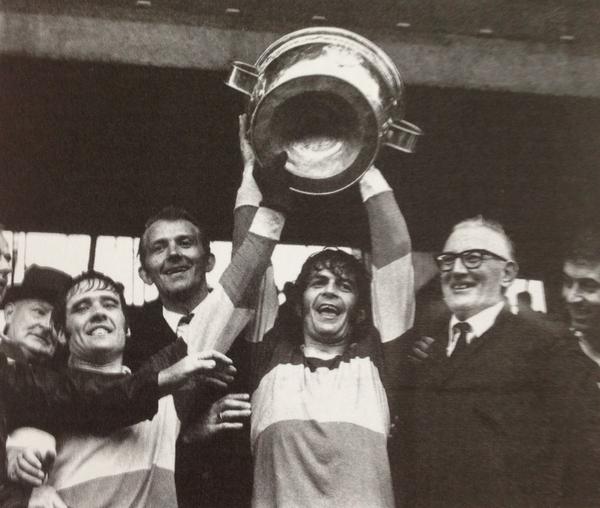 Willie Bryan soulève la première Sam Maguire Cup de l'histoire d'Offaly le 26 septembre 1971